Brevard, Flagler, Lake, Orange, Putnam, Seminole, St. Johns & Volusia Counties:


Current Forecast:
Bass anglers can expect to find bass hiding in shoreline vegetation, eelgrass, and around docks and pilings.  Locating fish should become easier as water levels fall and fish become somewhat more concentrated. Anglers should target edges of submerged vegetation along banks, sharp bends, and drop-offs near shallow bars. As water temperatures fall in January, bass should move up into sheltered areas behind bulrushes and into wind-protected coves in preparation to spawn. Traditional methods for taking bass will work. Swimming plastic worms/jerk baits and twitching shallow-running minnow imitations are the choice among many bass fishermen.  Fish deep in colder waters for bass and panfish. 
Cooling water temperatures should turn on striper movement and the striper bite.  The Osteen Bridge, deep bends near Mullet Lake, and the Wekiva River should all be good producers.  Sunshine bass should be becoming more common as that stocking program has resumed.
Crappie anglers should take fair numbers of fish by slow trolling artificials (small jigs and beetle spins) or by drifting with live minnows in the deeper, open water areas of the river and in lakes Monroe, Jesup, Harney, Woodruff, Dexter, and Beresford early in the season, and moving closer to shore as the crappie begin to spawn. 
American Shad should provide new opportunities for anglers as January approaches.  Slow trolling or casting with shad darts and flies should be as productive, with shad being caught from Lemon Bluff to Mullet Lake near Osteen, in Shad Alley upstream of Lake Jesup, and near Puzzle Lakes.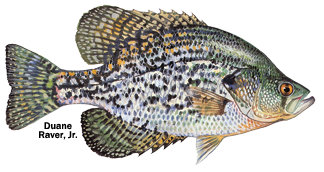 The following areas were selected by Florida's freshwater fisheries biologists as being the most likely to be highly productive for black crappie during 2014.

Fish Orlando

Current Forecast:
Starke Lake:  The once prevalent submersed eelgrass that was eradicated by the winter 2012 hydrilla treatment is slowly recovering in the water less than 6 feet.  However, our surveys in winter 2013 showed this reduction did result in a negative impact to the fish population and the fishery.  While the lake should recover in a couple years, the numbers of bass have been reduced and fishing is probably the worst it has been since Fish Orlando was formed in 1999.   With that said, largemouth bass should be moving into the grass areas to spawn.  Try flipping soft plastic craws inside areas that have cattails (tall flat stemmed grasses that can grow 6 feet or higher).  Also try casting u-vibe speed worms Texas-rigged on 1/8 oz weights in the pads and grass.  A lipless crankbait fished so that it hits the tops of the submerged vegetation is a good method to check for active fish.  If lipless crankbaits don't work switch to flukes, Carolina-rigged plastic baits or try a wacky rigged finesse worm or trick worm.
Turkey Lake:  Like Starke Lake, largemouth bass should be in spawning mode and the lake's catch rates last year were the highest ever recorded!  Topwaters or soft plastic jerk baits cast back into the emergent grass pockets are usually productive.  If bites do not come with an active retrieve, try "dead sticking" i.e. leaving the lure sit motionless for a minute or two at a time.  The area where the two lobes of the lake come together in a bottleneck is often a good spot. If a cold front sweeps through, fishing can be tough, but occasionally probing the dredge areas in the lake using crankbaits and Carolina-rigged plastic worms can save a trip.  The dredge areas are listed on a topographical map, which can be obtained by emailing or calling the Fish Orlando office (see contact information above). 
Black crappie (Speck) fishing is usually good this quarter and minnows is one of the best ways to catch these good eating fish.  Try drifting and/or trolling minnows or jig/minnow combinations at different depths and speeds in the south lobe of the lake, or in the north lobe straight out from the fixed fishing pier towards the boat concession area.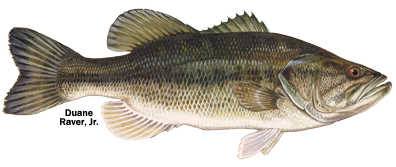 Largemouth Bass are found in almost every body of freshwater in Florida. With more than 7,500 lakes available, anglers sometimes face a tough decision about where to fish. The following list of Top Bass Fishing Areas aims to help anglers find a quality place to catch either good numbers of bass or to catch a trophy bass. FWC fisheries biologists selected these Florida lakes and rivers (in no specific order) as top black bass fishing destinations for 2014.
Lake Underhill:  In the north lobe there is topped out hydrilla and peppergrass that creates edges in the deeper holes that are holding fish.  Try a fluke, seinko or wacky rigged bait in these areas.  You can also try flipping both the shoreline and lakeward edges of the topped out vegetation around these dredge holes when the sun is high.  In addition to the inside edges use your depth finder in this north lobe to find where the deeper open water hydrilla fades to a clean bottom i.e. a breakline (as of Dec 2013 approx 12-13 feet).  Try crankbaits, Carolina-rigs and a Texas-rigged paddle-tail worm along this breakline for some big bites.  In the south lobe try the shallow (5-10 foot) peppergrass and eelgrass with spinnerbaits and hard jerk baits when they are active or a 4 inch worm fished a foot or so behind a 1/32 oz pegged worm weight when their activity is more lethargic.  
Ivanhoe:  With the majority of bass in spawn mode, fishing should begin to be productive up close to the bank.  Try the edges of the submersed vegetation with finesse plastic worms or soft jerk baits.  If this is unproductive try fishing around the emergent vegetation (i.e. pads, bulrush and cattails).  If the fish are not active try rigging the baits "wacky" style or fishing them in a dead stick manner.
Clear Lake:  Hybrid striped bass fishing is at its peak this quarter.  However, it appears that the extensive hydrilla coverage impacted the success of the fish stocked in April 2012 based on our winter 2013 observations.  What this means is that most of what will be caught this year will be 1 year old fish (i.e. 8-12 inches).  The hydrilla has been knocked back significantly but the 2013 treatments were not as successful as hoped.  However, this winter there should be more open water for hybrids than last year so try fishing the deep holes with crappie minnows or a small domestic shiner fished at different depths on a slip-bobber rig.  Concentrate on the holes where bait is marked on the depth finder.  The bite is usually better when a cold front is coming in from the north with overcast skies and a little rain.  The deeper areas are listed on a topographical map, which can be obtained by emailing or calling the Fish Orlando office (see contact information above).
Urban Ponds (Barnett Park Frog Pond, Bear Creek, Lake Island Park, and Santiago):  The Urban Ponds (Barnett Park Frog Pond, Bear Creek, Lake Island Park, and Santiago that range between 4.5 and 7 acres):  Because the URBAN PONDS are put-and-take channel catfish fisheries and channel catfish are a warm water species, this quarter can often be a bust.  However, if we have an unseasonably warm winter and/or you focus your efforts in March towards the end of the quarter, some channel catfish may be caught.  Try fishing chicken liver rigged on a #6 or # 8 hook around the "Baited Fishing Area" signs.  Night crawlers and wigglers are a good second choice for bait.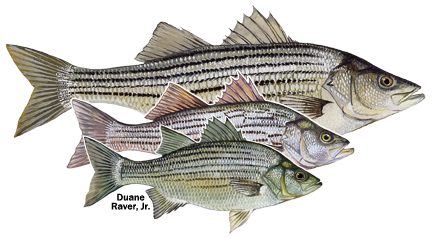 The following areas were selected by Florida's freshwater fisheries biologists as being the most likely to be highly productive for stripers, striper hybrids (sunshine bass) and white bass during 2014.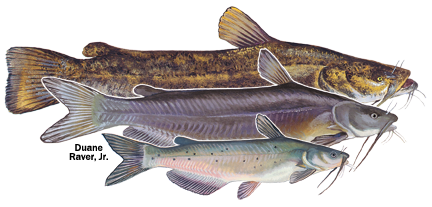 The following areas were selected by Florida's freshwater fisheries biologists as being the most likely to be highly productive for catfish during 2014.

Florida has more than 7,700 named lakes and ponds and over 10,000 miles of streams and rivers, all brimming with "bream."  "Bream" is a local term throughout the southeast that includes a variety of deep-bodied panfish belonging to the sunfish family. Based on fishery surveys and local expertise, here are predictions from Florida Fish and Wildlife Conservation Commission biologists on which sites they think should be highly productive for bream (in no particular order) for the year 2014.
| | | |
| --- | --- | --- |
| Species | Feeding | Spawning |
| American Shad | 45-70 | 50-65 |
| Striped Bass | 55-75 | 55-71 |
| Spotted Bass | 65-80 | 60-70 |
| Redbreast | 70-85 | 60-82 |
| Black Crappie | 70-75 | 62-65 |
| Flier | 70-80 | 62-68 |
| Redeye Bass | 65-80 | 62-69 |
| Largemouth Bass | 65-80 | 62-75 |
| Shoal Bass | 65-80 | 64-73 |
| Suwannee Bass | 65-80 | 65-68 |
| Blue Tilapia | 65-85 | 68-72 |
| Redear Sunfish | 65-80 | 70-80 |
| Flathead Catfish | 65-80 | 70-80 |
| Channel Catfish | 70-85 | 72-82 |
| Bluegill | 70-85 | 75-85 |
| Oscar | 70-90 | 82-91 |
Saltwater



Fish of the Week - Blacktip Shark
Carcharhinus limbatus
Features: 
Darkish bluish gray (young paler) above, whitish below.

Distinctive whitish tip on flank.

Inside tip of pectoral fin conspicuously black.

Dorsal fin, anal fin, and lower lobe of caudal fin also black-tipped in young, fading with growth.

First dorsal fin begins above axil of pectoral fin.

Snout long, almost V-shaped from below.

No mid-dorsal ridge.

Upper and lower teeth serrated, nearly symmetrical.
Similar Species: Spinner Sharks, C. brevipinna.
Size: To 8.25 feet.
Habitat: Principally pelagic, but often inshore in large schools, particularly in association with Spanish mackerel; frequently the most common shark (especially young) in clearwater cuts and along beaches in Florida
Data provided by the FWC