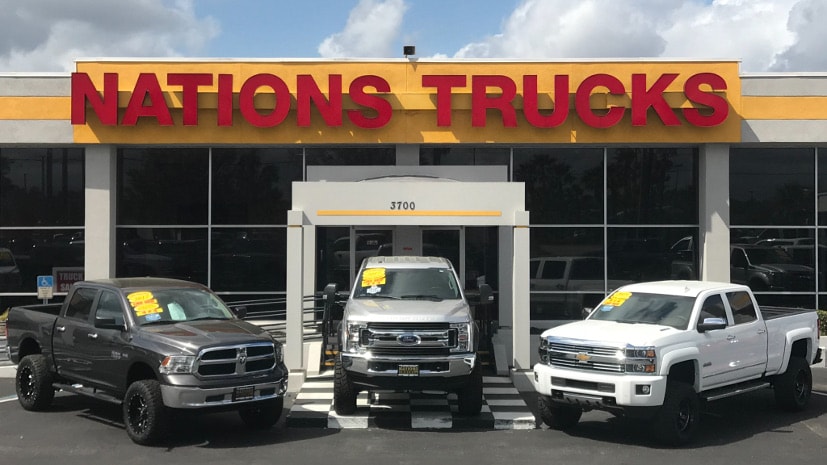 When Haggard Racing Co. was looking for a new truck to tow their race cars they found the perfect truck at Nations Trucks. Click Below to check out their YouTube video.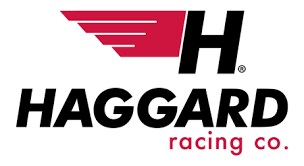 Outside of Florida we have sold hundreds of trucks to truck buyers in the states of:

Georgia, South Carolina, North Carolina, Virginia, Maryland, New Jersey, New York, Rhode Island, Massachusetts, Connecticut, Vermont, New Hampshire, Maine, Pennsylvania, West Virginia, Kentucky, Tennessee, Alabama, Mississippi, Ohio, Indiana, Michigan, Wisconsin, Illinois, Louisiana, Missouri, Iowa, Idaho, Minnesota, North Dakota, South Dakota, Oklahoma, Texas, New Mexico, Montana, Utah, Arizona, California, Oregon, Wyoming, Hawaii, Alaska and foreign destinations including Quebec, Ontario, Curacao, United Kingdom, The Bahamas, Puerto Rico, Costa Rica and Jamaica.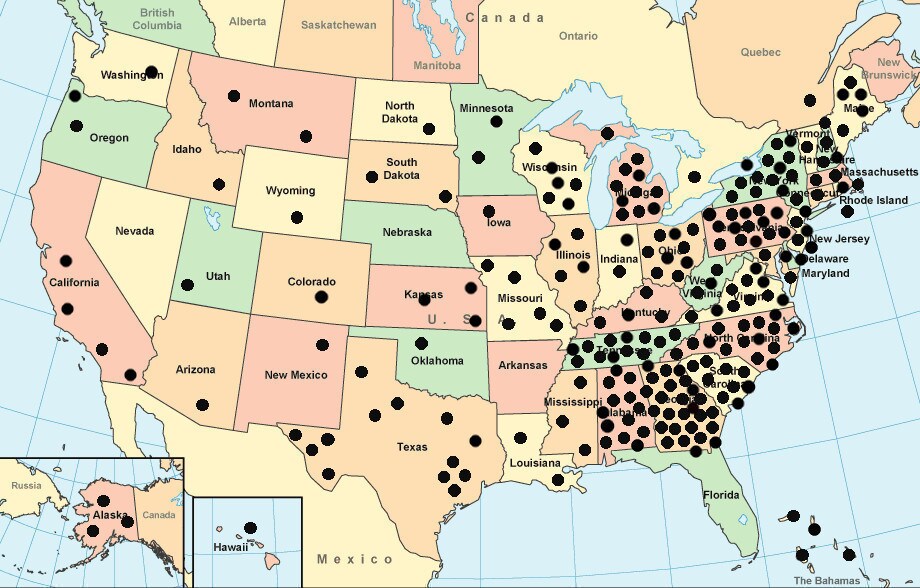 Nations Trucks prides itself on finding the perfect truck for every buyer no matter what state they may hail from. Each dot on the map above represents a Nations Truck currently residing in that state. If you're looking for the highest quality lowest priced pre-owned
Ford
,
Chevrolet
and
Dodge Ram
trucks in Florida give us a call today and let Nations Trucks help you find the perfect truck for both you and your budget.
Nations Trucks is the South Easts premier dealer of pre-owned
Jeep Wranglers
,
Ford
,
Chevrolet
,
Dodge Ram
and
Toyota
pickup trucks. Located in beautiful Sanford, Florida just a short truck drive up the road from Disney World, Nations Trucks has been providing our truck buyers with a better truck at a better price since 1969.

Times were different back in 1969 when James Mackenney opened up his first dealership here in the Orlando area. The one thing that has not changed is the attention that is paid to every customer that walks through the doors of our showroom.
If you are tired of the games that other dealers play and are looking for a relaxed truck buying experience with no games and no pressure visit Nations Trucks today.
Family Owned and Operated since 1969!
----------------------------------------------------------------------------------------------------
About Nations Trucks - a Sanford, Orlando, Deltona and Daytona Beach Used Truck Dealership
Nations Trucks is proud to serve Sanford and all of the Southeastern United States with quality trucks . We have something for every taste and need. Come visit us at 3700 S.Orlando Dr. to see our vehicles and take one for a test drive.
If you're looking for used trucks in Sanford, we can assist you. Visit our inventory page to see our large collection of pre-owned vehicles.  We also stock a number of monster trucks, be sure to view them as well.

Nations Trucks is not just your used truck dealership in Sanford, we also provide truck loans. Nations Trucks is the smart choice for all of your automotive needs. We are a BBB Accredited Business with an A+ rating, not to mention A+ customer service. Mr. MacKenny President-Owner Of Nations Trucks Opened His First Dealership Here in Central Florida Back in January of 1969 and is still proudly serving Central Florida Today.
 Come in and say hi! We're located at 3700 S.Orlando Dr. or you can give us a call. 407-936-2222
---
Local
Car dealer
Selling New
Used Trucks
and Used Cars.
Serving:
Sanford, FL
,
Orlando, FL
,
Daytona Beach, FL
,
Tampa, FL
.
Local Phone:
(888) 929-0482
3700 South Orlando Drive
Sanford,
FL
32773